Milwaukee's Pipeline event always turns heads and 2022's was no exception. Full of brand new technology and products, the star of the show was the M18 Fuel Brushless Cordless Plunge Saw. Whilst we're unsure what the UK model number will be at the time of writing, we're going to break down all we know about this amazing bit of kit!

We now have the Plunge Saw available here!
This brand new saw will be apart of the FUEL range, delivering ultimate power, if you want to check out why FUEL is just so impressive, you see all you need to know here.
(Worth noting here at ITS we always refer to these as Plunge saws, but some people may reference them as Track Saws in the latest news about this model)
Milwaukee has put a lot of time into this saw, they worked with end users to understand and develop the new model, tackling key problems with existing corded models. One of the key features is the pure power delivered by this machine, the 165mm blade will cut anything from ¼" Plywood to 2 ¼" thick hardwood such as solid oak, far outperforming many leading saws on the market with the ability to do the demanding cuts on a single pass over and over again. All of this whilst on the M18 cordless Fuel platform for true portability and freedom from cords.
Another major thing Milwaukee has focused on with this plunge saw is dust collection, regardless of if you're using the integrated dust bag, or an extraction system, the saw delivers over 90% dust collection of even the finest dust. This is music to anyone's ears as it means less cleaning up when the job is done!
The other major factor for the guys at Milwaukee is precision, these saws are designed to make the 'money cuts' the ones the client and everyone else is going to see. They designed the saw to be able to take with you on the go and deliver those precision cuts wherever you are.
Key Features
165mm Blade diameter
20mm bore
63.6mm Cutting capacity
-1° – 48° Bevel capacity
Over 90% dust collection
2500-5600 RPM
4.5kg Weight (with no battery)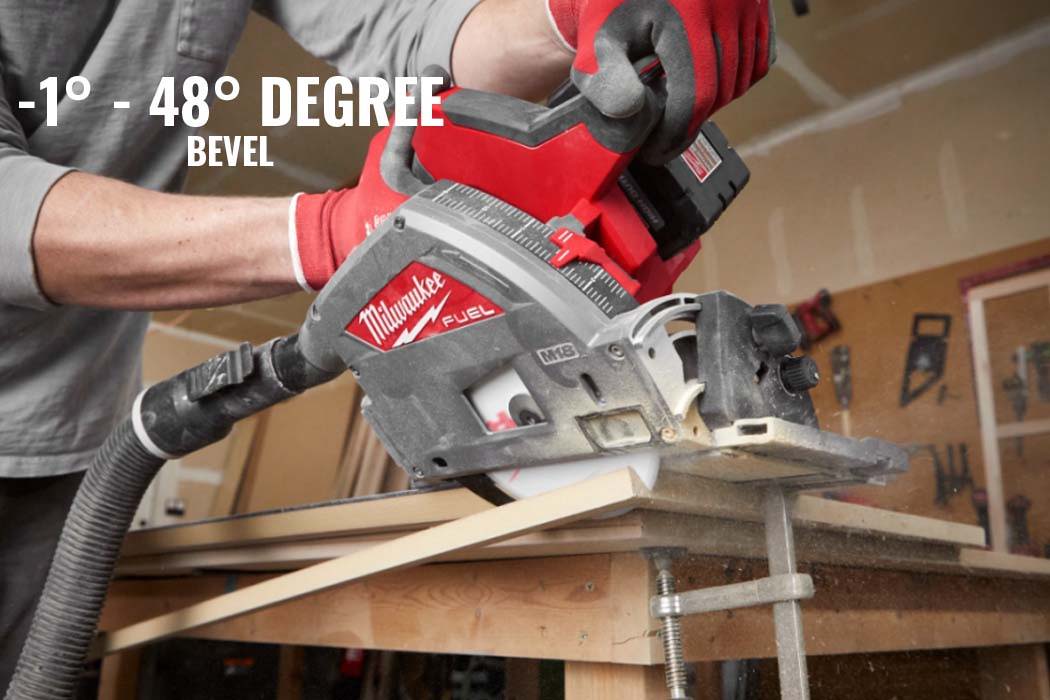 Accessories
The saw is going to come with a host of new accessories available to help you get the most out of the tool including:
3 New Guide Rails (780mm, 1.4m & 2.7m)
Clamps and connectors for the rails
5 New Blades (24T general purpose, 40T finish, 48T fine finish, 4T fibre cement, 52T laminate)
Carry bag that will fit all rails bar the longest rail
Replacement guide rail strips
And these accessories are really well thought out thanks to the field research, with even the guide rail strips having strengthened adhesive as users complained current strips often would come away with use.
Milwaukee Plunge Saw image 5
Milwaukee Plunge Saw image 6
Milwaukee Plunge Saw image 7
Milwaukee Plunge Saw image 8
All of this whilst boasting more cuts per charge than other saws, higher durability & better cut quality, this saw looks to have delivered everything Milwaukee users have been asking for!
We're expecting this product to drop here in the UK at the back end of 2022 and we can't wait! As soon as it lands with us we'll be stocking both full kits and body only versions of this fantastic tool.
So what do you think? Is this something you'll be adding to your tool collection? Let us know down below.
If you can't wait and want to check out all of the latest Milwaukee product that you can buy right now click here.
(Please note information included in this article was accurate at the time of writing and subject to change)